Advertise in the Lockdown Activity Guide
During the Coronavirus Crisis, Toddle About will be publishing a Printable Lockdown Activity Guide for families with under 5s.
With social distancing measures looking to be in full force for non-essential activities for a while yet, parents are tuning in more and more to the various online classes and events that are being run across the country.
Parents can search the Toddle About website to find what they want, but when you're not sure what you're looking for and you just want some inspiration, nothing beats browsing a printed directory or magazine. And parents can subscribe to the Lockdown Guide for free.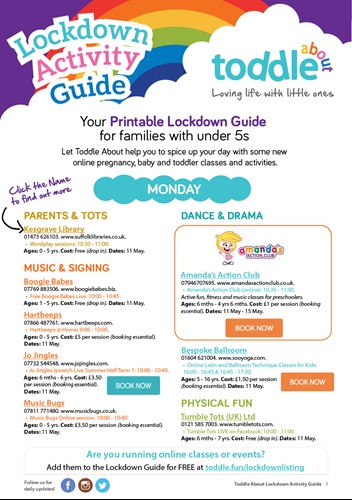 What does the Lockdown Activity Guide look like?
The format of the Lockdown Guide will be familiar to Toddle About readers, as it is very similar to the Daily Activity Planner in the 'normal' Toddle About magazine.
The bulk of the Guide will be day-by-day listings, showing what's on for little ones during the lockdown each day. The sessions on each day are broken down into categories, such as Music, Dance, Development etc. to make it easier for parents to browse. You can see an example here.
The Details
The Lockdown Activity Guide will be downloadable as a PDF so that parents can print it out at home. The design of the Guide also makes it easy for parents to browse on their phone, tablet or laptop too, if they are unable to print it off.
View and print an example of the Guide PDF here
Ideal for online browsing, the Guide is full of links, so it's super-easy for parents to find out more about a particular class or event, and to book when appropriate.
A new and updated Lockdown Activity Guide will be released every fortnight and emailed to the thousands of parents who subscribe to Toddle About.
How To Add Your Sessions to the Guide
Live Classes and Events
By default, if your sessions are on the Toddle About website, we will include them in the Lockdown Guide for free. It's easy to add your classes and events to the website.
All online classes and events that are running in the 2-week period covered by the current Guide will be included - this means it's important you keep your listings up-to-date.
Pre-Recorded Classes and Events
There is a dedicated section in the Lockdown Guide for businesses who aren't running LIVE sessions, but instead are offering their pre-recorded videos via platforms such as Youtube and Facebook, making them available at any time.
To add your sessions to this section for free, please complete this form.
Submit Pre-recorded Session Info for Free
Your Extra Advertising Options
If you want your sessions to stand out from the crowd and attract more attention than your competition, we have 4 different upgrade options for you - from simply adding a 'Book Now' button (which is free) to maximising your exposure and reach with our Ultimate Stand Out Package.
Check out your Advertising Options