Read More Reviews
Review: The Love Writing Co. Complete Learning to Write Pack, worth £27.99
Review by VIP Club Member Francesca Browning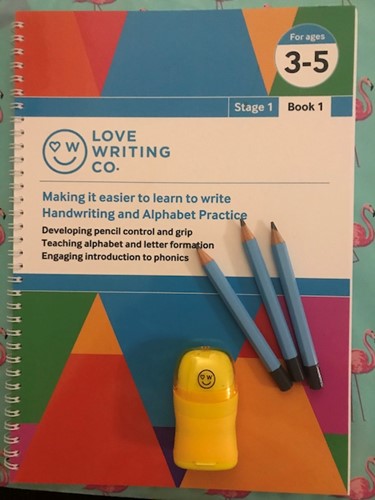 Product Information
The Complete Learning to Write Pack is Love Writing Co.'s most loved home learning resource which has helped thousands of preschoolers and school children across the UK learn to write in a fun and engaging way. The pack includes two Handwriting and Alphabet Practice Books which are filled with activities and characters inspired by our own children to bring their learning journeys to life. Accompanying these are uniquely designed Writing and Colouring Pencils created with little hands in mind, our Eraser Sharpener duo and Eco Gym Bag, which come together to create the ideal home learning experience.
Available to buy from lovewritingco.com
We were very excited to be chosen to review The Love Writing Co. Complete Learning To Write Pack, especially as we are in the middle of home schooling and looking for new ways to make learning fun.

The pack itself comes with two alphabet and handwriting practice books, five pencils, a pack of erasable colouring pencils and an eraser sharpener.

The alphabet and handwriting books both look and feel very high quality. At the start there are pages to improve pencil grip and control, before you move on to practicing writing lower and upper case letters. Each book gives you lots of opportunities to practice each letter and use this in different words and sentences. There are also pictures to colour in and a really fun sticker as a reward for completing each activity.

The pack is aimed at ages 3 to 5 and although my daughter is towards the upper age range of the product, she was really keen to test it and we used it as an activity to practice making sure she was forming all of her letter correctly and to support her phonics learning. Each page is also very clearly laid out and was easy for her to work through independently.

The pencils were just the right size for little hands and I noticed how much better control she had when writing compared to using a longer pencil.

The paper is also such good quality it was very easy to erase answers and I feel you could redo pages again or even use it for younger siblings, which we hope to do so soon, especially as the colouring pencils are erasable too.

We would recommend this product and enjoyed testing it.