Read More Reviews
Review: Rubik's Amazing Box of Magic Tricks from Marvin's Magic
Product Info
This is an exclusive magic set celebrating the 40th anniversary of the world famous Rubik's Cube! It includes 40 superb tricks ideal for 8 year olds and above. This Rubik's Box of 40 Amazing Magic Tricks includes:
• Instant solve,
• Mind reading puzzle cube,
• Jumping cubes
• Step By Step Instructions.
• Much more!
This amazing children's magic set is packed with 40 tricks that can be mastered in minutes. Designed for children aged 8 or above, this special tin will enable your little magician to perform for friends and family professional magic tricks. Enjoy a range of fantastic Rubik's themed illusions and tricks - perfect for all the family!
Suitable for: 8 Years+
RRP: £24.99. Buy from Amazon.
Our Review
This is the perfect set for any Rubik's fan, and it's amazing how many different "Rubik's cubes" you get in the kit.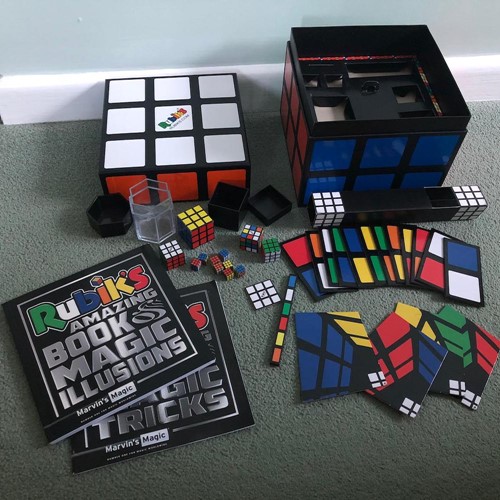 The full set
The box itself is a giant Rubik's cube, and is nice and sturdy, so could be used to store whatever you like. The tiny little cubes are really cute, and are used for a great magic trick which involves turning a single Rubik's cube in a transparent pot, into eight tiny Rubik's cubes right before your audience's eyes!
Watch the trick here - it's really good, and so easy to do. Our son mastered this one first and amazed his sisters with it:
I have to admit, I was apprehensive about this set, as we have had other magic sets which haven't actually contained many items of any substance, and the tricks haven't been very good, but I was actually very impressed with this set.
I really like the variety of magic tricks, and how quick and easy they were to learn how to perform. The instruction booklet is clear and easy to follow, which was perfect for our son who tends to lose attention if there's too much detail. He really liked the set and was able to perform lots of tricks very quickly.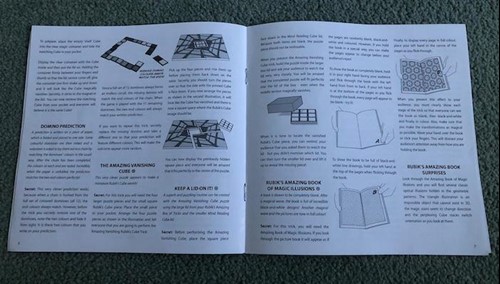 We all particularly liked the Book of Magical Illusions magic trick, which none of us had ever seen anything like before, and was so effective, yet easy to learn!
All the pieces seem to be durable and of good quality, and overall this is a really nice set for any budding magicians!