Read More Reviews
Review: The Great Lives in Graphics book series from Button Books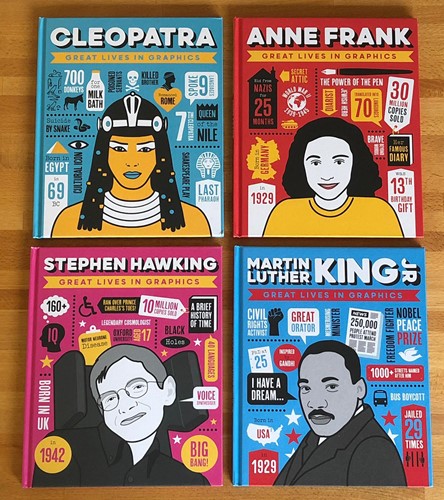 Product Info
This is a new educational series from Button Books - The Great Lives in Graphics series! These infographic books are an innovative and exciting series which will give children a new way to learn about the lives of remarkable and influential people whose exploits and deeds have changed the world. Each book captures and reveals the incredible discoveries and achievements of the world's most famous artists, writers, musicians, scientists, activists, leaders and more – brought to life with fun, stylish and easy-to-understand infographics.
Released in October 2020, the first four books in the series focus on Anne Frank, Martin Luther King Jr, Cleopatra and Stephen Hawking. These educational books have been designed to be instant and enjoyable to dip into and the result is a colourful, fascinating and often surprising representation of these peoples' lives, works and legacies.
They are aimed at children aged 8 to 12 and each book has an inspirational overview of their subject's life, charting their life in a historical context, showing the important places that feature in their lives, a glossary explaining some key concepts and much, much more.
Filled with fascinating facts these books will open your children's eyes to the experiences of others through graphic illustrations and factoids. Did you know for example that Anne Frank wrote two versions of her diary? After hearing a call on the radio for people living under Nazi occupation to save their war-time diaries she began writing a new diary for publication after the war. Did you know that Martin Luther King Jr was a very clever student and skipped two grades and graduated from high school at 15? Did you know Cleopatra's family were descended from Greeks and she was the first of her line to learn to speak Egyptian? And did you know that Stephen Hawking loved his robotic voice so much that he refused a brand new one when offered it?
Four more titles, Frida Kahlo, Nikola Tesla, Jane Austen and Mozart are due to be released on April 7th 2021.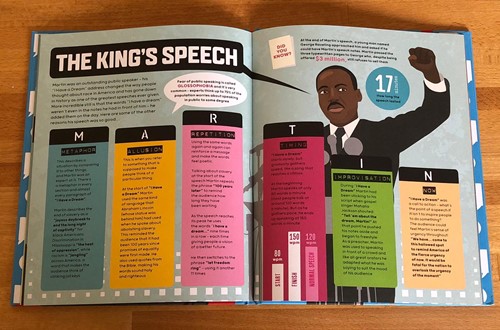 Our Review
These are brilliant books, both eye-catching and informative. Our children, ages 13, 11 and 10 really liked how they were presented in a different way to a lot of our other non-fiction books, and they were drawn to the bold and contrasting style of the graphics.
The illustrations are bright and colourful, and there is a lot of variety in the way each of the pages are presented, making each page interesting to look at and a pleasure to read.
These books are a great way to introduce children to some of the most influential people in world history in a visual and engaging way, whilst also explaining about the times and places in which they lived.
We really liked the timelines and interesting facts, and we particularly enjoyed the amusing anecdotes that were included too!
The books themselves have a lovely feel to them with matt, textured covers, and nice thick pages, giving them the feel of a high-quality book.