Read More Reviews
Review: Aveeno Baby Calming Comfort Range, worth £11.98
Review by VIP Club Member Elena Conea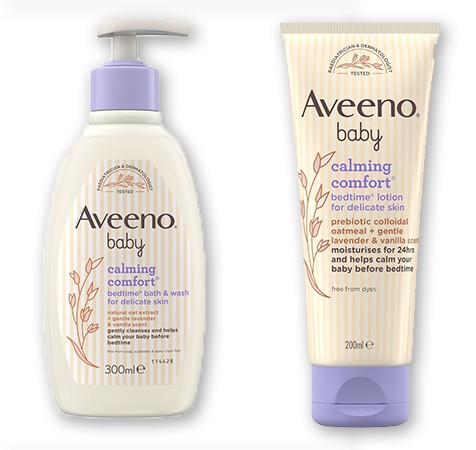 Product Information
The new AVEENO® Baby CALMING COMFORT® range of a Bath & Wash and Lotion has been specially formulated to help parents create a calm and relaxing bedtime routine to send their little ones off into the land of nod and deliver a better night's sleep for the whole family. Gentle enough for everyday use, the CALMING COMFORT® range has been carefully created for delicate baby skin, containing soothing natural oat extract, alongside soft aromas of vanilla and the relaxing scent of lavender to help calm babies at bedtime.
Available to buy from Boots
Review
We have been kindly gifted to review the Bedtime Lotion for delicate skin and the Bedtime Bath & Wash and I've put them to good use with both my Newborn baby boy and my little lady who is almost 3 years old, as fans of the Aveeno baby soothing relief range, I was really excited to try this one too. 
The first thing I noticed was the mild and very pleasant lavender and vanilla scent. I wouldn't normally choose anything with parfum in it for a baby's skin as I do not find it necessary but this is a personal preference.  My toddler loves the scent though and enjoys bath time even more so for that reason.
The Bedtime Bath & Wash is tear free, a must with little ones. It does foam a little bit, adding to the fun. It leaves that satisfying fresh and clean feeling after wash. Very practical packaging with the pump, and 1 pump goes a long way so I would say it will last a while. 
The Bedtime Lotion absorbs quickly into the skin, which is greatly appreciated as it does not stick to little ones clothes and the scent tends to linger for an hour or so. 
I wouldn't say it improves their sleeping patterns as obviously its such a complex and unique aspect of every baby and child, it surely makes the whole bedtime routine pleasant and something to look forward to. 
Overall, I would totally recommend the range with the mention that for babies I would opt for the version without parfum in its ingredients.