Read More Reviews
Review: Bamboo Fox Suction Plate, worth £16.99
https://www.bamboobamboo.com/Review by VIP Club Member Nicola Speers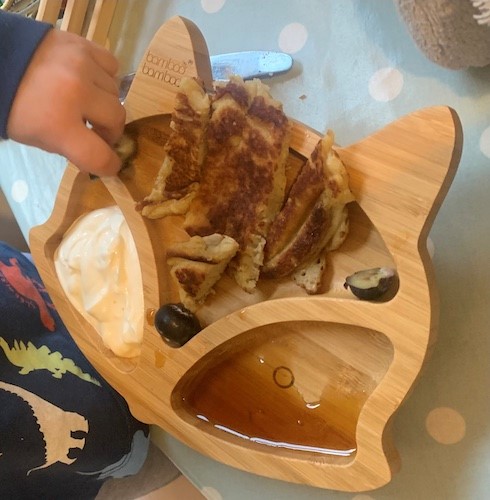 Instantly recognisable from many an Instagram grid, the Bamboo Bamboo Fox Suction plate certainly doesn't disappoint on first appearances.  Arriving in a beautiful box this crockery sets out to impress.  The plate itself is incredibly tactile with beautiful smooth curves they cleverly depict the animal.  The grain of the bamboo is seen throughout and feels bespoke in its attention to detail.  It is well weighted – heavy enough to not move around the table but light enough to be carried with ease by small hands.  Despite this, the plate feels robust and would probably win when propelled off a highchair onto a solid floor!

The overall size is just about right, it looks full but not overcrowded with a child's portion.  The clever use of partitioning within the plate to detail the animal lends itself to sectioning of a meal, and we found this especially good for breakfasts and lunches.  The incorporation of the animal within the meal definitely increased the appeal of the food and likelihood of it being eaten, but this may wain of the plates' life time!

The suction attachment to the bottom was of varying use.  It didn't maintain suction particularly well on the oil cloth covering our table, and although it worked well on our highchair table I have heard reports to the contrary.
For me the biggest issue with this plate is that it is neither dishwasher or microwave safe.  This definitely forced me not to reach for it on a number of occasions, having survived dinner time, choosing to hand wash a plate in addition to clearing the rest of the chaos felt an additional unnecessary and avoidable step.

Overall this is a gorgeous plate which definitely improved the appeal of the food, but best for those who don't mind popping on the marigolds!
Available to buy from Bamboo Bamboo