Read More Reviews
Review: Dantoy BIOplastic Pretend Play Dinner Set, worth £19.49
Review by VIP Club Member Laura Stevenson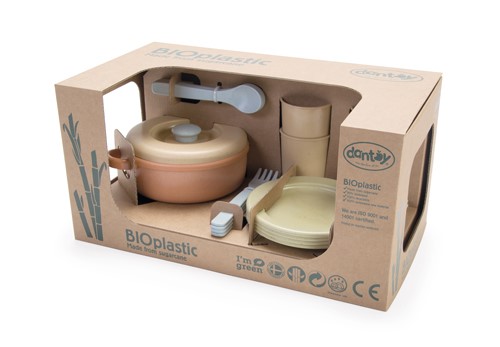 Product Information
Bioplastic range of products, enlarging our already play selection of plastic toys. made least 90% sugarcane, a sustainable raw material, and our bioplastic is 100% recyclable. An environmentally friendly range that has the same quality As our traditional plastic toys. Dantoy pretend playsets engage your children for hours of creative play. The design encourages your kids to create endless imaginative games together and independently. Building children's confidence and physical development through play, for the fun of it.
Bioplastic range are packaged loosely in recycled cardboard boxes. The bioplastic has been approved for contact with foods, are microwave safe, Dishwasher safe.
Available to buy from Amazon
Review
The Dantoy BIOplastic pretend dinner set arrived in our house on a Saturday morning much to the delight of my two boys – aged 4 and 2. It was immediately despatched from its packaging as they set it up in their play kitchen.
It's quite a robust set and well made, which it needed to be for two excitable boys, and comes with a cooking pot, plates, cups and a full complement of cutlery. The cutlery is a good size and they could both hold all the pieces comfortably in their hands.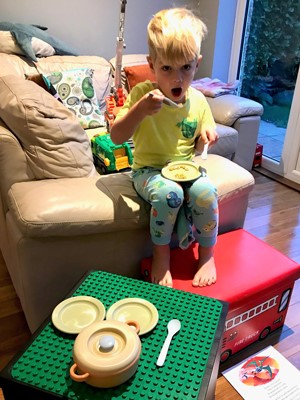 Both boys liked filling the plates with cheerio's and eating their breakfast from them as well as using the pretend food we already have at home. It looks quite adult in its design and comes in neutral colours which my four year-old particularly liked as it made him feel grown up. He spent a long time eating his cheerio's from it with one of the knives and forks sets.
Both boys played with the set for a long time on the first day it arrived and then continually went back to it over the next few days, making food in the kitchen and then serving it to us on plates. The items are all easily cleaned and even with frequent use have proved very durable.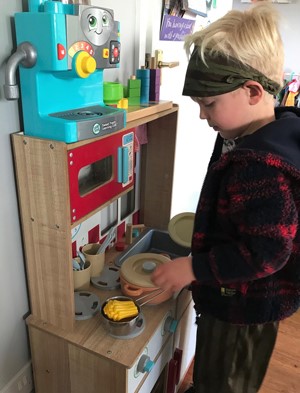 The only issue I think could have been improved was that there was nothing to keep it in and with forks, spoons and knives as well as all of the plates and cups, there is a lot to keep together at once. I did spend a lot of time retrieving the items from underneath the sofa or across the room. Even a small bag or box could have prevented this from happening.
The price is possibly slightly higher than for a similar type of product but the quality and durability would make it worthwhile.