Read More Reviews
Review: Elphee Silicone Stick & Stay Plate, worth £22.95
Review by VIP Club Member Abby Hersey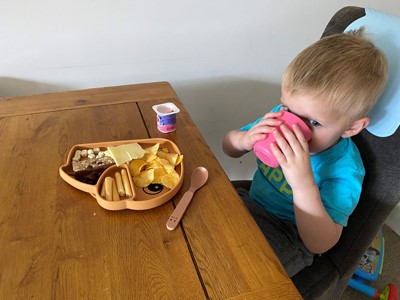 Product Information
Elphee is ready to make eating fun! The stick & stay plate with two practical compartments will stay in place and help little eaters master their eating skills.

Press the plate down and it will stick to a smooth surface with natural suction - preventing little ones from pushing, tipping, or throwing it.

An easy-release flap is hidden behind Elphee's ear. The rounded inside edges of the plate help little eaters scoop up food while learning to eat on their own.
Available to buy from www.donebydeer.com
Review
We were recently kindly given the Done By Deer elephant suction plate to review. I have a 2 year old at home who is currently going through the throwing things phase so I was delighted to try this out! The plate itself is probably more suited to children who are just starting to wean or with smaller appetites as it isn't as big as expected. The suction on the bottom is ideal for little hands who like to throw! I also love the fact it's dishwasher and microwave safe as this is always a lifesaver with young kiddies. 
The sections are ideal for fussy toddlers like mine too! And my older child who is 4 liked to use the smaller section for his ketchup!
Overall it's a really fun design with lots of great features for those starting to wean.