Read More Reviews
Review: Freerider Co Charcoal Baby Sling, worth £49.99
Review by VIP Club Member Amy Armstrong.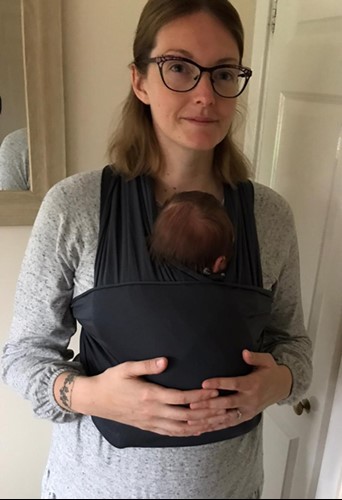 Product Information
Freerider Co.'s baby slings are proudly made from 100% Tencel. Tencel fibres define a new standard of sustainability. Made of wood pulp from natural forests and sustainably managed tree farms, the fabric is as light as a feather and incredibly breathable. It absorbs 70% more moisture than Co1on allowing for a drier sleeping environment. Freerider Co.'s baby slings are the double award winners of the Mother&Baby Awards Best Baby Carrier 2019 & 2020.
Available to buy from Freeriderco
Review
I feel incredibly lucky to have been asked to review the beautiful Freerider sling. As a mum who is trying to make more conscious choices I'm impressed with Freerider's green credentials. The sling itself is made from tencel, one of the most sustainable fabrics on the market. Tencel is made from wood pulp but if you think that this makes for a rough and unyielding product, you'd be wrong. It's so soft and buttery, my toddler couldn't keep his hands off it! 
My son is at the top end of the recommended weight for the sling, but I was still able to carry him comfortably and he loved being carried again. In addition to the 'how to' guide that came with the product, Freerider have some very helpful videos on their website including alternate ways of wrapping for plus size and male wearers. Although I bought a different brand of wrap for my son when he was young, I found it too bulky and complicated to use so I ended up with a more structured carrier. I can't wait to use this with my newborn when they arrive in the spring, I feel confident that the quality of the product and the helpful videos will make this possible. 
I also asked a friend with a newborn to try the Freerider sling out for a fair review, she currently uses a ring sling but "found the material on this one much better, I was able to pull it tighter so she felt closer and more comfortable to carry. Love the feel of it and it's nice and thin so it's not bulky on...it's really secure on her head and I can walk hand free very comfortably...can't find a flaw!" 
Considering our children are over two years apart and the sling worked perfectly with both, I'm very impressed. I would 100% recommend for anyone looking for a sling, especially if you are choosing greener options.