Read More Reviews
Review: LeapFrog 2 in 1 Count Along Basket and Smart Scanner, worth £34
Review by VIP Club Member Dijana Wiles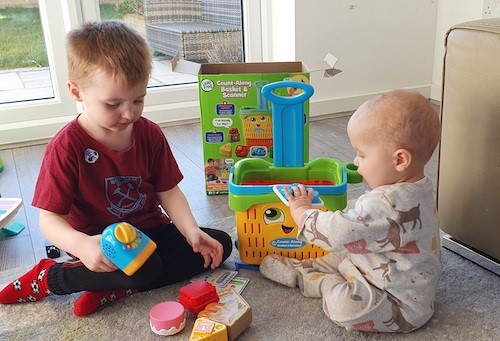 Both of my boys, age 1 and 4 were super excited to open the box and start playing with the LeapFrog 2 in 1 Count Along Basket and Smart Scanner that we were chosen to review.
I was amazed of how good quality the toy is, it's sturdy and doesn't look flimsy and the colours are bright and inviting.
The basket is easy to extend to convert from a basket to a trolley or simply to adjust to the child's height.
My older one loves scanning, it does not really scan but has clips to attach pieces to the scanner. He even asked if we can bring it to the shops.
The toy has 3 play modes to choose from. My older one's favourite mode is to play the game of finding the correct pieces and matching the items to the scanner.
The toy is perfect for 2-3 year olds as it helps children to learn the colours and shapes and teaches counting in a fun way. It does encourage role play and we enjoyed playing pretend shops which both boys loved and the toy comes with a shopping list as well which is a bonus.
The toy is designed for 2 years up and all the pieces are the perfect size for any age to grab and hold, however my 1 year old loves playing with it as well. He pushes the basket around and finds the pieces to put in the basket. The toy is very versatile which is great as kids didn't get bored as quickly as they can with other toys.
Another great thing about the toy is that it is fairly compact and does not take much space. The only negative I have is that the volume is not loud enough and at times you really have to listen what has been said. Apart from that, it is a great toy and you are guaranteed hours of fun play.
Available to buy from Argos