Read More Reviews
Review: Leapfrog Speak and Learn Puppy, worth £36.99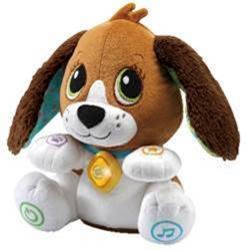 Product Information
Suitable for little ones 12 months+, the Speak & Learn Puppy™ is an interactive toy that engages with little ones learning to talk by repeating what they say, having conversations, and creating short stories with the child. The dog, Bailey, keeps the conversation going and teaches your little one while they discover and grow!
The Speak & Learn Puppy™ has three modes of play for fun all day! In Babble mode, Bailey repeats the sounds and words your child says in a fun, interactive way. In Talk mode, the puppy has conversations, turning her replies into enjoyable stories. Music mode is where your little one will learn about letters, numbers and emotions through songs. Bailey's amusing and playful voice encourages your child to engage – watch her ears flap and head move whilst she talks and listens!
The Speak & Learn Puppy™ has three learning levels. Your little one will learn their ABCs, feelings and emotions, first words and phrases, and numbers. Encouraging language development, your little one will love their new friend, and you'll love how much they learn!
Available to buy from Argos and Smyths Toys Superstores
Review
My 13 month old daughter absolutely loves this puppy. From the moment she first seen her, Bailey has been a hit!
The fur on this puppy is super soft and lovely to touch, but I wasn't sure how cuddly she would find it as there is a plastic unit in the base for the batteries etc....but my little girl carries Bailey around with her and regularly snuggles up to her so I think she passes the hug-ability test!
The 3 different learning levels are a great feature as I am hoping that this toy will remain as engaging in the future for my daughter as she finds it now. (The volume also has 2 settings so you can choose quieter/louder play if you want).
We are currently using level one which plays some simple games such as repeat the sounds e.g puppy says 'a cow goes moo. Now you say moo...' and the child can then respond, and counting 1, 2, 3 as she wiggles her ears, or encourages the child to jump 3 times. My daughter now loves to jump around and I'm sure this puppy has had something to do with that!
I love that it also touches on phonics at such an early age by asking the child to repeat the sound a letter makes, and then gives them a word that begins with that letter.
The recording function means that whatever your child says puppy can repeat it back to them. With a limited vocabulary my daughter mostly just makes sounds at the moment, but puppy will repeat those back to her too which she finds really engaging.
I also have a 5 year old son who loves to record himself saying funny things and then finds it hilarious when Bailey repeats them in a slightly squeaky voice!
Bailey will also sing songs and wiggle her ears along to the music. I must admit I do regularly find myself singing the songs now, but I still can't wiggle my ears like her!
I have found this to be a toy that captures my daughters attention and engages her for a decent amount of time. We have been out on car journeys for half an hour or so and my daughter will happily entertain herself playing with Bailey.
I think it helps that the buttons are super easy even for tiny hands to use, and the colourful symbols on the paws make them attractive to children to just want to touch and press them.
So far it seems to be standing up well to general day to day use. Ours has been carried about by the ears, dropped numerous times, dribbled on, and had the light-up collar button pressed about 50 million times (ok that may an exaggeration!) but it is still in perfect working order. I even managed to wipe marmite off of the fur pretty easily too!
Overall I now love this toy as much as my daughter and would happily recommend it or buy it for any of my friends children.