Read More Reviews
Review by VIP Club Member Natalie Hunt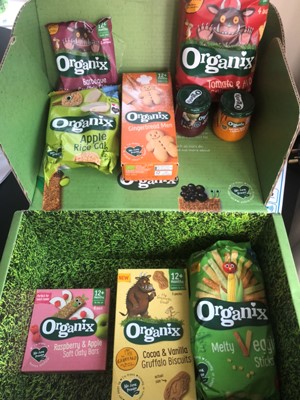 Product Information
Organix is the UK's No 1 baby finger foods & toddler snacks. Suitable for weaning from 6 months+, deliciously tasty & with the reassurance of our No Junk Promise - meaning nothing unnecessary added with no added salt, colour or artificial flavouring. 
Hamper contents include: Barbeque Gruffalo Claws, Apple Rice Cakes, Gingerbread Men, Tomato & Herb Gruffalo Claws, Raspberry & Apple Soft Oaty Bars, Cocoa & Vanilla Gruffalo Biscuits, Melty Veggie Sticks, Just Carrot, Sweetcorn & Butternut Squash Jar and Just Apple, Blueberry & Oat Jar.
To see the full range available, please visit Organix.com
Review
We received the Organix Hamper to trial and I was excited to see all the different varieties and there was a good selection of different products received. We've used Organix in the past but never tried the majority of products received so was looking forward to trying them out. After testing them all, I can say that my son particularly enjoyed the Raspberry and Apple Soft Oaty Bars and the Cocoa and Vanilla Gruffalo Biscuits. It's nice giving him snacks that you know aren't full of rubbish and don't contain too much sugar. The above two products were also in individual packs which make them very handy for when out and about.
He enjoyed them all other than the Tomato Claws but he isn't a fan of tomato so this was expected. Personally my favourite was the melty veggie sticks as he thought he was getting a bag of crisps from the way they are packaged and presented but this is obviously a much healthier alternative so win win for us both!
I never realised how big of a range there was for Organix and since receiving these items we've noticed lots of other products they offer that will likely be a popular snack for my son so will be buying these going forward as they make a change from his usual fruit snacks that he would have.
I'm due another baby at the end of the year and noticed a lot of products for younger children which we will try when the time comes.
Thank you very much for letting us try the products they went down very well and I'd recommend them to other parents to try as a healthier alternative to normal crisps and biscuits available. There is a good selection of flavours across the different age ranges so plenty to choose from.