Read More Reviews
Review: Pura Baby Wipes and Nappies, worth £36.74 (for subscription)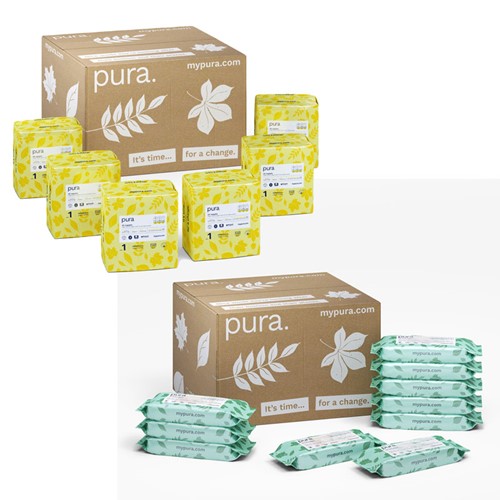 Product Information
Pura wipes are 100% plastic free 100% biodegradable and available in flushable and non flushable formats.  They are made from sustainable plant fibres and each Pura wipe contains 99% water and organic aloe vera and no perfume, alcohol or chlorine. They are accredited by the British Skin Foundation, Allergy UK, the FSC and the Soil Association.
Pura eco-friendly nappies are made with soft sustainable organic cotton and a super absorbent core made with certified natural plant fibres combined with channel technology that quickly draws moisture away from the skin.  They are available in size 1-6.
Flushable Wipes, 70 wipes per pack, 10 packs per case, 700 wipes in total. Subscription price: £19.84 (non-flushable are £18.24). Nappies from  Size 1 Newborn, 2-6 kg, subscription price: £16.90 (12.8p per nappy) for 132 nappies.
Available to buy from mypura.com
Review

I was delighted to have the opportunity to review Pura High Performance Eco Nappies with my active 16 month little girl. Pura eco nappies are made with "soft organic cotton and 0% chlorine, perfumes and allergens" so are ideal for those sensitive little ones. Not every nappy out there suits every child and having a child with sensitive skin, these nappies suited her skin without any issues.

If you are trying to be more environmentally friendly and would like to continue using disposable nappies, Pura nappies are made with "sustainable plant fibre core" and have a "100% green energy manufacturing process" so you can rest assured that Pura are doing their bit to minimise any damage to the environment.

At the time of writing this review, I have been using the nappies for about 10 days and, overall, I'm quite pleased with their performance. Compared with some of the cheaper supermarket brands, they certainly keep your little one drier for longer "with a super-absorbent plant fibre core to keep developing healthy skin", although when testing them overnight, I don't know if I would totally agree with their claim of staying dry for up to 12 hours. It was certainly cutting it fine on that timeline but my little one does wake up with very wet nappies as a norm. I would love to see Pura bring out a plus size range this issue.

In terms of flexibility throughout the day, I was very impressed with their seal, both around the waist and around the legs. I sometimes find the sticky tabs on nappies insufficient and can sometimes become loose but Pura are without a doubt the best I've come across with a decent "sticky" section as well as velcro tab. When testing out the seal around the legs over our 10 days of use, overall, I was quite pleased but on one occasion, we did have an unfortunate leak. I'm not sure how much of this should be blamed on the nappy though..!

If I was asked about continuing to use Pura eco nappies, I would be quite happy to keep using them, although the cost at 23p per nappy is possibly prohibitive compared to other brands at around the 6p-12p per nappy mark that don't perform significantly worse.