Read More Reviews
Review: Stomp Racers, worth £19.99
Review by VIP Club Member Lisa Bowers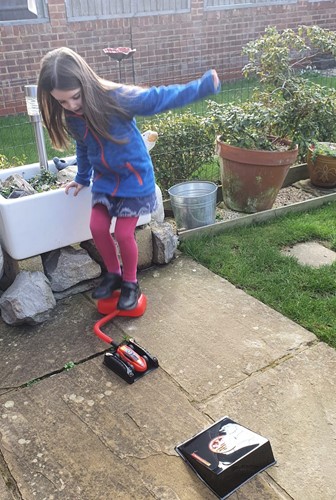 The box of the Stomp Racers was smaller than I had expected but bright and instantly engaging to my 5 year old daughter and 18 month old son.
Upon opening the packaging, it was clear the size of the box had been well thought out to avoid wasted space and all the parts fitted snugly without any unnecessary plastic padding.
At first glance the components didn't look very substantial and our first thought as adults, was that it didn't look worth the £19.99 (Amazon) price tag.
The assembly of the product was simple and could be easily completed by our 5 year old, it came with stickers which again could be easily applied by a child and included spares for an alternative design of the car.
On closer inspection of the parts some really did feel quite flimsy, particularly the ramp and with our 18 month old in mind we were worried this would be easily squashed. The product is recommended for 5-12 years old though, so understandably not designed with our heavy handed toddler in mind, but something to consider if you have younger siblings who would be sharing this toy.
The car itself is basic in design but sturdy and the technology couldn't be simpler, after showing my daughter just once, she was easily able to operate the Stomp Racer and soon picked up that the different positions of the ramp created different trajectories.
I think our biggest disappointment was the fact we only managed to make the car travel a couple of feet. That said we had a lot of fun playing with this as a family and my toddler has taken to carrying the car around with him when not in use as a Stomp Racer.
Overall good fun for all the family.
Available to buy from Amazon