Read More Reviews
Review: Zog and The Quest for the Golden Star Activity Trail at Warwick Castle
A spring day out at Warwick Castle now includes the following:
The BRAND NEW activity trail - Zog and the Quest for the Golden Star
64-acres of beautiful grounds and gardens, including Pageant Field and the Peacock Garden
The central Courtyard and The Conqueror's Fortress
The Horrible Histories® Maze
The River Island - featuring the magnificent Trebuchet
Roaming castle characters - featuring fascinating birds of prey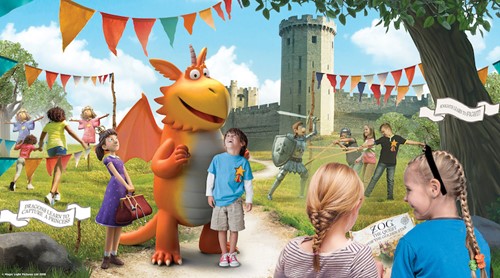 About Zog and the Quest for the Golden Star
Based on the best-selling books by author Julia Donaldson and illustrator Axel Scheffler, the trail features five fun lessons from Madame Dragon's school to enthral children as they try out awesome roars, capture a princess and soar high without their fee t ever leaving the ground. Collecting a stamp for each completed task, the final challenge sees children join Sir Gadabout's school for ambitious knights and to collect their very own golden star before they head off to meet Zog himself for a photo.
Warwick Castle, Warwick, Warwickshire, CV34 6AH
Open 10am to 4pm
www.warwick-castle.com, 01926 406610
Tickets:
Child tickets from £8 and Adults from £12, when booked in advance.
Special Parent & Toddler ticket (toddler – children up to 5 yrs of age) £12 – when booked in advance. Available on Mon-Thurs between 19th April – 13th May.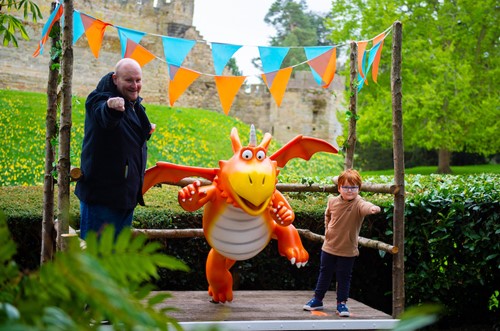 Our Review:
We LOVE Warwick Castle, and we're totally fed up of lockdowns and isolation, so we were super excited to visit the castle to check out their new children's activity trail, "Zog and the Quest for the Golden Star."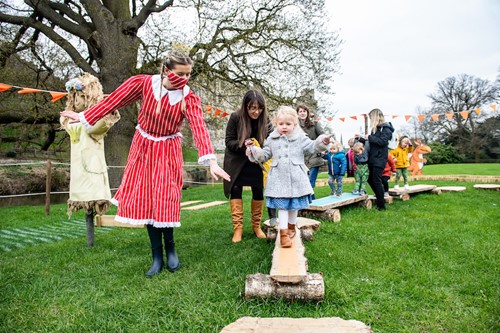 Despite our children being older than the target audience for the trail (10,12 and 13!), they were still familiar with the Julia Donaldson book having loved it when they were younger, and we all enjoyed looking for each of the five Zog exhibits around the castle grounds!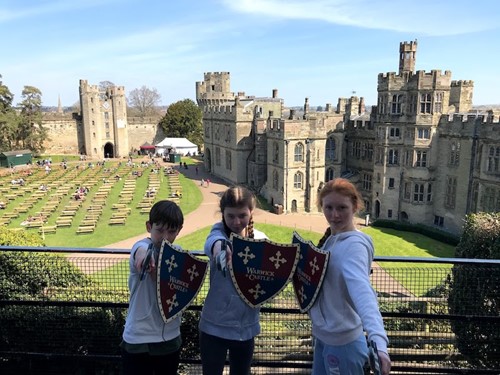 The Zog activities were fun to hunt for using the map provided, and each location had interactive things to do, such as large buttons to stamp on, an obstacle course and knight school. There were plenty of great photo opportunities with various "Zog" statues, and people dressed up as Princess Pearl, Sir Gadabout and even Zog himself!
Children are all given a Zog Activity Card when they arrive, and can stamp their card at each of the five Zog locations. When they have collected all their stamps they can go to Sir Gadabout at Knight School to collect their Golden Star badge.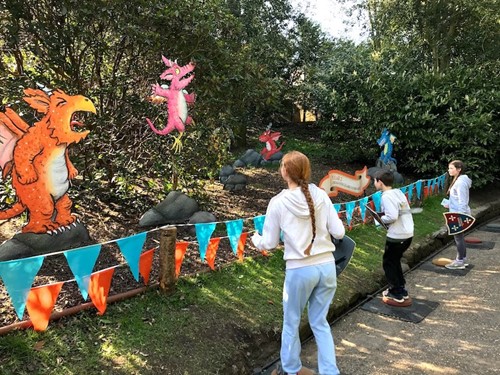 We thought the Zog Activity Trail was great, and a really good way to engage younger children. Our children also enjoyed the Horrible Histories Maze, which was fun and varied, and full of interesting historical facts.
Despite the indoor castle attractions being closed, we really enjoyed spending the day in the castle grounds, and seeing the various outdoor things that were going on, such as the archery, and several people dressed up as castle characters. We weren't able to go up the ramparts this time, but it was fun to see a sword fight re-enactment on them! The Falconer's Quest bird of prey display wasn't on when we were there, but we have seen it before and it's really very good, with lots of different birds on display. I believe it is re-opening in May.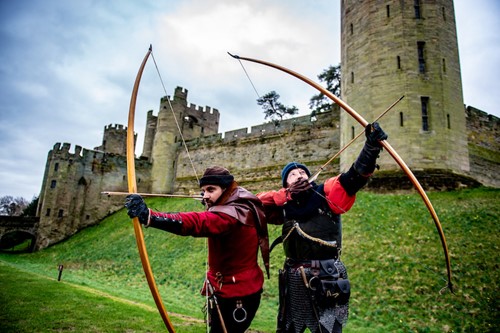 We particularly enjoyed being able to walk across the bridge to get up close to the huge trebuchet, and to sit on the banks of River Island and see the castle from a different viewpoint. This is something we haven't been able to do before. The Peacock Gardens are also lovely, and a perfect spot to sit and have a coffee or an ice-cream, whilst watching the peacocks show off their beautiful tail feathers. Overall, we had a great day, and it was so nice to have a change of scenery and be out somewhere different!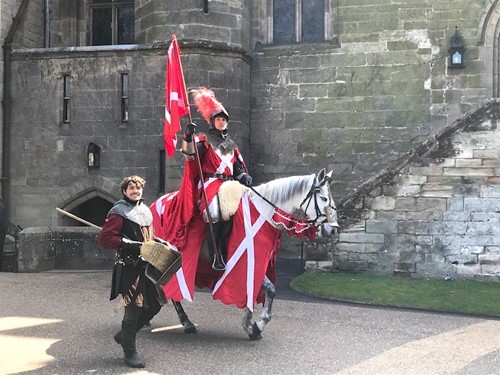 The Zog Activity Trail is available every day from 12th April to 5th September 2021, and is included in the castle entry ticket price.